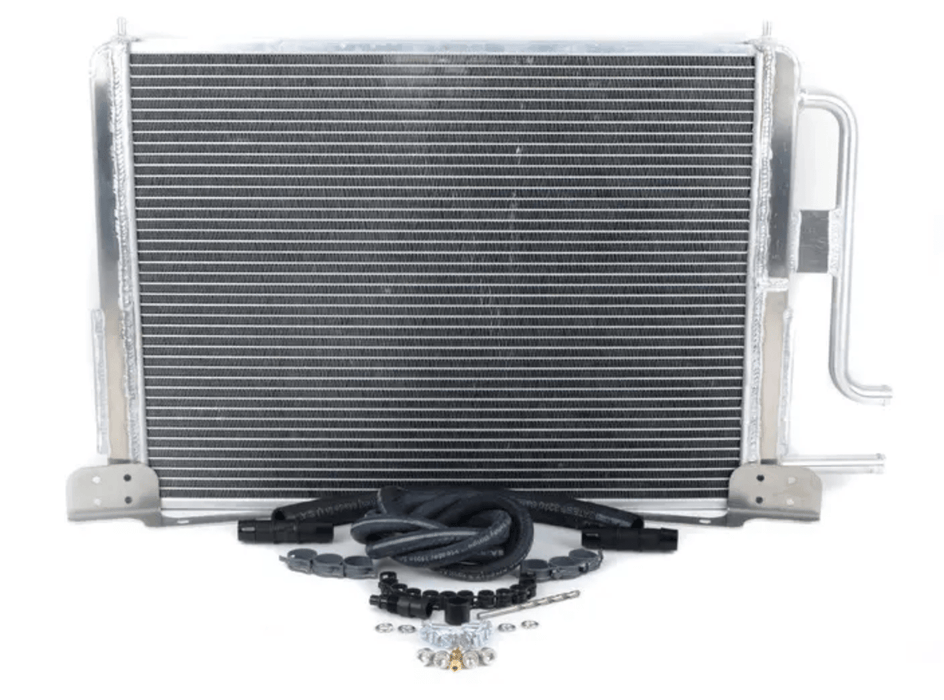 APR CPS Radiator - 3.0/4.0T TFSI - B8/B8.5 A4/A5/S4/S5, Q5/SQ5, C7 A6/A7/S6/S7
Save

Liquid error (snippets/product-badge line 32): Computation results in '-Infinity'

%
PRODUCT DESCRIPTION 
*Pre-faclift models (up to 2012) require Fit Kit - Please see Fit Kit MS100136 or ES3219342 for a complete installation*

Please Note: Only available for purchase and shipment in the United States
The APR Coolant Performance System (CPS) is a massive front-mounted cooling radiator upgrade that dramatically reduces intake air temperature (IAT), minimizes heat soak, and provides increased performance! The system is 140% larger than the stock and features a self-bleeding cooling circuit, ensuring it is always operating at peak performance. The system is easy to maintain, and the cooling circuit is fully monitored, controlled and protected by the factory ECU. This upgrade is recommended at every stage!
Quick Facts:
Dramatically lowers intake air temp (IAT):
Increases and retains HP while minimizing power-robbing heat soak!
Massive frontal surface area (core) and volume (radiator):
29" x 05.5" x 2.1" – 159.5"² & 054"³ - OEM
22" x 17.4" x 1.7" – 382.8"² & 130"³ - APR
Highly effective dual-pass core design:
Tightly packed external louvered fins rapidly dissipate heat as coolant flows through internal cooling paths.
Self-bleeding and self-optimizing system:
Air-bubbles trapped within the system kills performance! The self-bleeding system constantly removes air from the system, without any manual intervention!
Retains factory safety and control:
The ECU retains full control over the system, protecting against pump failure and coolant leaks.
Easy to install and maintain:
All the performance without the headaches. Each system is fully pressure tested after assembly..
System Overview: 
The 3.0 TFSI uses a liquid-to-air intercooling cooling circuit.  A front mounted radiator is responsible for cooling hot coolant, while two heat exchangers within the supercharger are responsible for cooling the supercharged air before it enters the engine.  
The Problem: 
The front mounted radiator is tiny. Air trapped within the system devastates the cooler's effectiveness, while the sheer lack of surface area and coolant volume makes for a system incapable of keeping up with the cooling demands at higher performance levvels. 
The APR Solution: 
The APR Coolant Performance System replaces the front mounted radiator with a much larger and more capable dual-pass unit.  It has 140% more frontal surface area and holds 141% more coolant than the factor unit.  Tightly packed louvered fins rapidly dissipate heat over a much wider area than the factory unit. 
Next, APR CPS incorporates a unique self-bleeding system into the cooler design.  Keeping up with manual bleeding is messy, and all but impossible.  However, the APR system continuously self-bleeds, increasing the coolers effectiveness automatically! 
The result is simple; More horsepower over a much wiper operating range! 
*Pre-faclift models (up to 2012) require Fit Kit - Please see Fit Kit MS100136 or ES3219342 for a complete installation* 
**Some early B8 models with Audi Drive Select (ADS) have a factory dynamic steering cooler that will need relocated.  This cooler is visible through the top of the grille**
Brand: APR

Part #MS100127