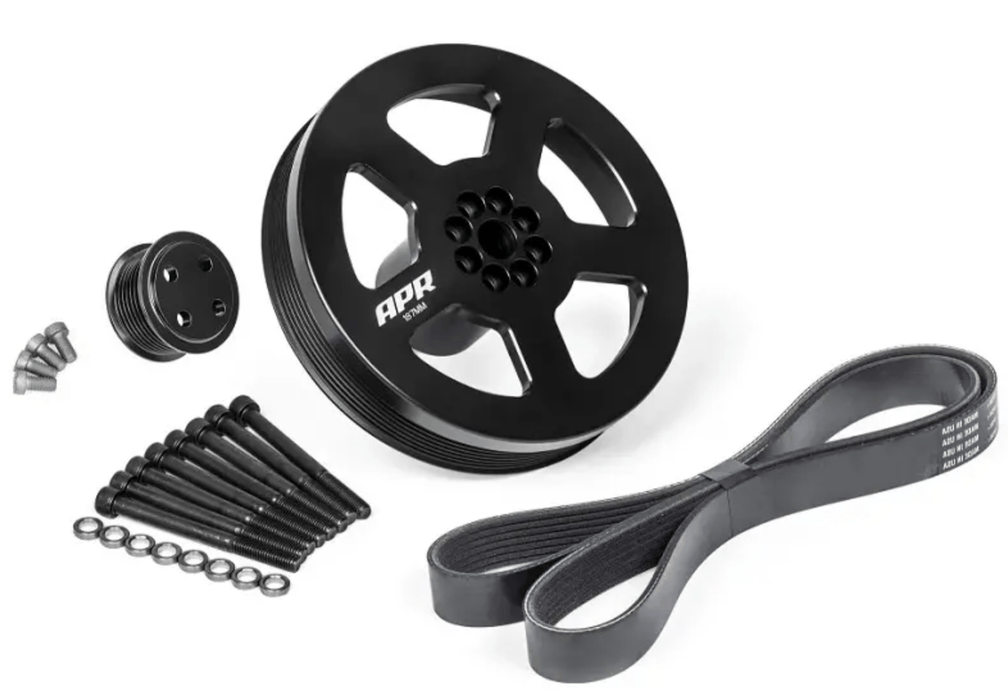 APR Supercharger Dual Puller Upgrade Kit 3.0 TFSI - (BOLT ON)
Save

Liquid error (snippets/product-badge line 32): Computation results in '-Infinity'

%
PRODUCT DESCRIPTION
*For models with factory bolt-on pulley (3.0T Gen 2 Simos 16.x) - APR Stage II software is required to run any upgraded Pulley configuration and is sold separately - Please see complete description for additional application information

Please Note: Only available for purchase and shipment in the United States
APR presents the 3.0 TFSI Supercharger Drive and Crank Pulley Upgrades.
APR's Supercharger Drive and Crank Pulley Upgrades dramatically increase horsepower and torque by increasing the rotational speed of the factory supercharger. APR's Stage II Pulley ECU Upgrade makes the necessary engine management adjustments to handle the increased supercharger speeds, and in turn allows the engine to create more power. The pulleys are sold separately, allowing for multiple levels of performance, each of which builds upon the other. Finally, when combined with APR's Ultracharger Throttle Body Upgrade in a dual pulley setup, the system is alleviated of power robbing inlet restrictions, allowing the engine to achieve exciting new levels of performance!
Upgrading both the supercharger drive and crank pulleys results in the factory supercharger spinning ~26.4% faster than stock. This speed was chosen after extensive engine and chassis dyno testing with various pulley sizes and supercharger speeds. The result is an even higher horsepower and torque gain across the entire RPM range. However, at the airflow levels achieved with a dual pulley setup, maximum power is severely restricted by the factory throttle body unit. The APR Ultracharger Throttle Body Upgrade is necessary to take full advantage of the dual pulley configuration.
Kit Contents:
 APR Supercharger Crank Pulley Upgrade (MS100133)
APR Supercharger Drive Pulley Upgrade (MS100139 - Bolt-On Style)
Correct length supercharger drive belt (Belt for use with both APR drive pulley and APR crank pulley installed) 
*This upgrade is only applicable to superchargers with a bolt on pulley as shown in our photo*
**APR Stage II software is required to run any upgraded Pulley configuration and is sold separately - Please see ES3219307, ES3219312 - Or software must be sourced through an APR dealer local to customer**
***This product is designed for use with APR's S-Tronic TCU Upgrade (when applicable), NGK BKR9EIX plugs gapped @ .024" +/- .002" torqued to 30Nm, and a new supercharger belt. The APR Coolant Performance System is highly recommended and required with the dual pulley setup. IAT's must be below 75c to achieve the advertised power figures. A high flow intake system is highly recommended and is required to meet the advertised power figures. For the best results, APR recommends removing the intake snow screen.***
Brand: APR

Part #MS100185